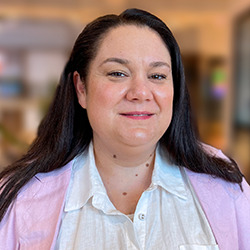 Laura Leitch
Assistant Coordinator
Melbourne
Laura started working in disability five years ago and immediately felt at home in the sector. She says it was the "most natural feeling job" she'd ever had".
After working as a key worker for two years, Laura was promoted to assistant coordinator. She's embracing the opportunity to assist even more people to live their best lives. Laura also says she works alongside the most wonderful compassionate team she could ever ask for.
Outside of work, Laura is a wife and mother to four kids, two cats, two dogs and a blue tongue lizard! She lives in a very loud and busy household full of love and laughter. She loves all things art, cooking, and nature.