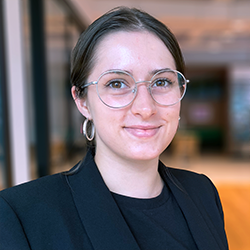 Magdalena Robinson
She/Her
Junior Software Developer
InLife HQ
Magdalena Robinson is not your typical software developer. With a background in hospitality and a passion for all things tech, she brings a unique blend of skills and personality to her role at InLife.
Driven by a desire to make a positive impact in the disability industry, Magdalena sees the power of technology in transforming lives. She believes in coding with compassion and creating innovative solutions that empower individuals with disabilities.
When she's not immersed in lines of code, you can find Magdalena tending to her thriving garden or experimenting with new recipes in the kitchen. With her cat Casper as her faithful sidekick, she's always ready for the next adventure in the world of software development.
With her genuine care for others and a continuous thirst for knowledge, Magdalena is a valuable asset to the InLife team. She's on a mission to bring her unique quirks and technical expertise together to make a difference in the disability industry, one byte at a time.