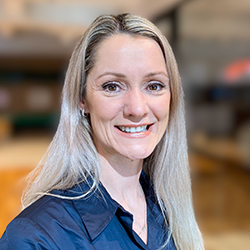 Rebecca Fitzgerald
Senior Client Funds Officer
InLife HQ
Bec has an accounting degree and worked in the insurance sector prior to having kids. After a stint as a stay-at-home-mum, she took up a role in accounts & inventory management at a craft brewery & distillery.
Having grown up around family members with disability, Bec always believed that everyone deserved to live a life of their choosing and equal opportunities to make that happen.
As a Senior Clients Funds Officer at InLife, Bec's job is to ensure that clients keep within their budgets whilst achieving their goals and living the life they want.
Bec wishes she had more time for pilates and crafting but instead finds herself running around after three sporty kids alongside her husband. She loves family movie nights, going on holidays and tackling DIY projects (that frustrate her husband as they just don't seem to stop!). Her family also have two fur babies - an Old English Sheepdog named Hugo and a rescue cat named Eddie.