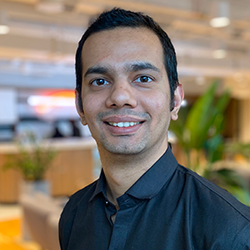 Sachin Kotnala
Software Developer
InLife HQ
Sachin has a Master's degree in IT from Monash University. His passion for technology was ignited by an inspiring school teacher. Since graduating he's worked for four diverse companies, which provided him with unique experiences in various tech domains.
Sachin's journey into the realm of social impact and technology began during the pandemic. He created a digital platform connecting NGOs and volunteers, unveiling technology's potential to bridge societal gaps.
Sachin's role as a software developer at InLife, aligns with his belief in the potential of technology to empower individuals with disabilities. At InLife, his main priorities revolve around creating inclusive digital solutions.
Beyond coding, Sachin embraces meditation and yoga. And you might find him on a badminton court or playing a friendly game of cricket. Dogs and Sun Conures (a type of parakeet) also bring him joy!