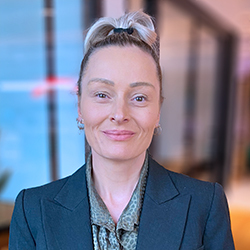 Sylvia Parizek
Coordinator
Melbourne
Sylvia studied and worked as a counsellor before making a career switch to disability support during the COVID-19 pandemic. She wanted to help people in a hands-on-way, not just in zoom sessions on the computer.
Sylvia quickly gained experience with clients with a range of complex needs. She is interested in behavioural issues and loves supporting clients to reach their goals.
Outside of work, Sylvia's a keen swimmer in summer and enjoys a trip to the beach. At home, she has a dog, cat and bird, who (luckily) cohabit happily together.