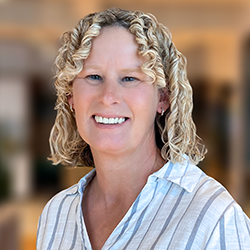 Tess Dolman
Coordinator
Geelong
Tess has more than 20 years experience in the disability sector and has been an accommodation manager across four shared SIL houses in the past 10 years.
She loves seeing clients achieve their goals and a career highlight was travelling with a group to an international disability conference in Florida, USA.
Tess is also an adrenaline junkie who loves sailing, surfing and jumping out of planes. She has bungee jumped four times in New Zealand and is in the process of planning another trip.

At home, she has two fur-babies, a Labrador and a Border Collie. Tess has taught the Border Collie tricks from YouTube and he now competes in dog agility competitions!